Nikki [The Boss]
WEF Administrator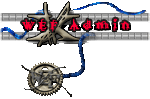 WEF Founder
member is offline







Joined: Feb 2006
Gender: Female

Posts: 3,229
Location: United F'N Kingdom[A:1]

Welcome New Members
« Thread Started on Jan 7, 2007, 2:38pm »

---

Welcoming to The WEF - World Extreme Federation



All the Staff want you to feel welcome here and want you to have fun, meet new people and share your interests with us.

We have information in the join us board for information on how to create your wrestler and contract with us. Most of our information and posts isnt viewable to guests so once you join you will be able to read more information to get you started.

WEF Wrestling is directed from the United Kingdom so please be aware of the time difference if you locate from another country

MYCLCK

Please make sure you enter a valid email address as your account will need to be activated before you can post.

Your account will need to be approved before you can post. So if your joining as a wrestler - then start working on your contract

Once you sign up and your account is approved please click on profile at the top of the board on the menu bar.



And modify your profile to change your display name



...and to add pictures to your profile.



Sigs and avatars can be requested here by graphic makers if you would like a custom one made for you.

Remember, this is a wrestling roleplay site aswell as a forum. Staff dont write matches for you, you write them yourselves and then they are judged. We allow many ways for roleplays to be written which will be available for you to read once you have joined. These including match writing, promos only and more..


Quote:

We are not demanding and we dont expect long RPs. We allow any level of members here even if your new to efeds.



We have 1 weekly show, DVD tapings and active members and champions. We have been running for over 3 years and would like to welcome new wrestlers and members here with us.

Before you can start here with The WEF you will need to have entered your contract/bio correctly and have reasonable information on your wrestler.

New members that have joined can feel free to introduce themselves in the welcome board with a warm welcome from members and staff.

Please make sure you have read the rules and information to create your wrestler.

Enjoy your time here with the WEF


Thank you


---

2007 Bitch Of The Year

2007 Piss Me Off And I'll Ban You Award

2008 Manipulator of the Year

2008 Biggest Fuck Up Award

2009 Worst Storyline Of The Year

2009 NSS Award - Abandoning WEF doesn't "rock"

2009 FU Award - Nikki Roxx And Victor Leave.