Nikki [The Boss]
WEF Administrator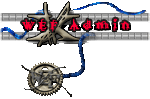 WEF Founder
member is offline







Joined: Feb 2006
Gender: Female

Posts: 3,229
Location: United F'N Kingdom[A:1]

Referral Awards
« Thread Started on Aug 26, 2010, 8:37pm »

---

Did you join WEF because a member here recommended you?

We will award the member who makes the most referrals to WEF

- The award isn't revealed yet but we will need the winners postal information to receive it.


Rules


Members you refer must be active
First person to refer 5 members will win
Only then will you receive your prize to your address






Please put down the member name that referred you or you referred here.


(We have to right to not give you anything if we find you cheating)

---

2007 Bitch Of The Year

2007 Piss Me Off And I'll Ban You Award

2008 Manipulator of the Year

2008 Biggest Fuck Up Award

2009 Worst Storyline Of The Year

2009 NSS Award - Abandoning WEF doesn't "rock"

2009 FU Award - Nikki Roxx And Victor Leave.